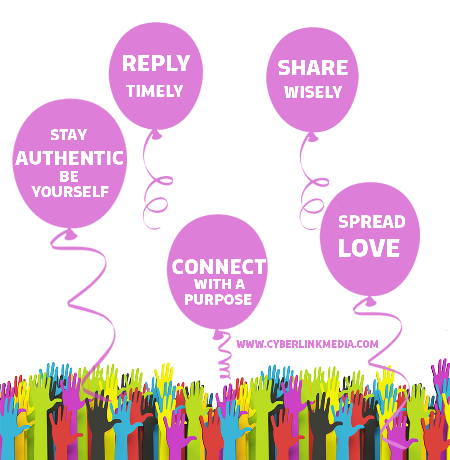 We all love to say that social media is the natural extension of our social lives and an obvious upgrade to the way we exchange information, this being true, a logical conclusion is that you must follow some basic rules of social media etiquette in order to maintain or establish a respectable online reputation for your own brand, that being yourself. A good start to doing just that is to follow these five simple rules that we have put together for you:
1. Start and stay authentic
Long gone is the era when we could get away with a parallel "digital identity", chatting with strangers hidden behind a nickname. It is now a norm that you present yourself on social media platforms with your true name and an up-to-date photo of yourself.  Nobody will take your social media profile for serious, no matter on what network, if it is not a genuine representation of who you are and what you do. (Think about all the invitations you get from LinkedIn users who haven`t even bothered to upload a profile picture, or about those Facebook profiles with a phony-looking name inviting you to like their new page.
2. Connect with a purpose
Whenever you wish to connect to a peer, business prospect or a long forgotten acquaintance, include your motive for reaching out in a personal message, it is only polite!

3. Share wisely


Posting content through your social media accounts is not so much different than sharing interesting news with your friends, except in the first case your voice can reach a far greater number of people. As your "base" of social media connections gets larger, you must think twice before posting or sharing a piece of information. Is this going to offend someone in any way? No matter if it was only meant to be a joke; it can still negatively affect your online likability.

4. Reply timely


A direct message on twitter, a "tag" in a Facebook post or an invitation to connect on LinkedIn, they all deserve your attention and apt response, it is only social!

5. Spread some love


Even though social media is the first place to go when you have experienced bad service at a restaurant, take a minute to consider the opposite situation. Use your influence not only to express and try to correct flaws in our society but also to encourage good examples of professionalism and social responsibility. Support your hair stylist if she decides to open a Facebook fan page by liking and commenting, social prove will always be more than welcomed for her business.