Our Interactive Environments will help you do just that.
You want to gain and keep your clients attention?
You can count on CyberLink to keep our finger on the pulse of new technologies, weed out the hype, and use what works. Whether it's a marketing demo developed in Flash, an e-learning module, an interactive online application that builds customer relationships or a new website—presentation matters! CyberLink brings a wealth of experience and talent to all of their interactive communication projects.
The CyberLink Interactive Environments process:
The priority of our first meeting is to determine the objective of the marketing communication. We will research extensively to collect valuable pieces of information to prepare your storyboard – marketing objectives, use case, graphic trends, etc. Then our creative and technical team will brainstorm and select the most innovative and creative ideas with coordination to the new marketing trends . Our know-how and experience in interactive marketing will be in accordance with your knowledge of the market to create added value for the user, stimulate creativity and invent extremely innovative solutions. At the end of the brainstorm, our team will define a retro-planning.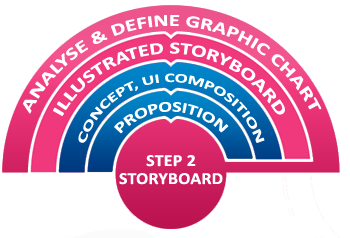 In the second step we will analyze all the data gathered during the first step. Our graphic designers will define a graphic chart based on your brand guidelines.. We will then propose an illustrated storyboard. We will use the drawings to help us realize what the interface will look like and if it answers the requirements concerning user interface composition, ergonomics and design. The initial storyboard is not definitive but defines a start for an iterative process to reach perfection and optimal added value.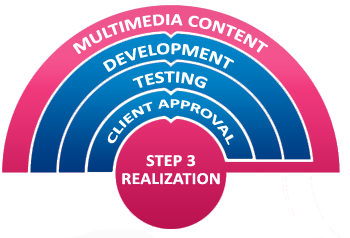 Once the definitive storyboard has been confirmed, our team will start gathering multimedia contents and our programmers will start developing the interface. We will keep you informed about all the steps of the development of your multimedia idea. Intensive test will be made to ensure the reliability of the application. Before the event, you will be invited to test the final application as soon as it is ready.
Our Interactive Solutions include:

Interactive Presentations. Our Interactive presentations use online and offline interactive media to communicate with consumers and to promote your products, brands, services, and public service announcements.
We use many different types of cognitive tools and advert presentations, so we can enhance the impact your company makes with this type of advertising.
Interactive 3D Architectural Ambients.Our interactive presentations enable you to visualize any scene you need in 3D, for example: buildings, interiors, spaces or your products. We will help you present your work to others with screenshots, movies and a 3D real-time virtual walk. We will also take you for a "virtual walk" around your ambient architecture!
Motion graphics and animation.Let us professionally design a custom motion graphic clip for any of your digital media needs. We can become your greatest asset for achieving success.
Contact us today