Challenge
To present the historical-cultural treasure of the UNESCO protected city – Ohrid.

Languages: English and Macedonian
Awards
2005 Best of Trado, Switzerland

Solution
The CD Rom "Ohrid – cradle of beauty" is a complete tourist guide for the one of the most beautiful Macedonian cities – Ohrid. A town of vast history, place of historic magnificence but also of outstanding natural beauty.
It provides an incredible amount of information on history of Ohrid, underwater archeology, traditional local craftsman, national park Galichica, Ohrid swimming marathon, the Ohrid Bazaar etc.
More than 20 churches (St. Naum, St. Holy Mother – Bogorodica, St. Sophia, St. John Bogoslov of Kaneo, St. Dimitrija, St. Erasmus, St. Nickolas and etc.), numerous historic-cultural monuments (The monument of St. Cyril and Methodius, The house of Robevci, The Lapidarium Museum, The House of Uranija, The House of Hristo Uzunov, The Museum of Slavic literacy, The Memorial House of Grigor Prilichev, Samoil's Fortress etc.), as well as Ohrid beaches, villages are presented by photos, text, ambient music and panoramas that offer 360 degree views.
The CD ROM consists of over 450 photographs, 30 videos, 30 panoramas 360°, 80 pages text and original Music.
The CD-Rom "Ohrid – cradle of beauty" is a great way to get a general overview of the City. It can be also used for educational purposes or as a valuable souvenir to show the natural beauty of Ohrid, its surrounding countryside and tourist attractions to family, friends and colleagues.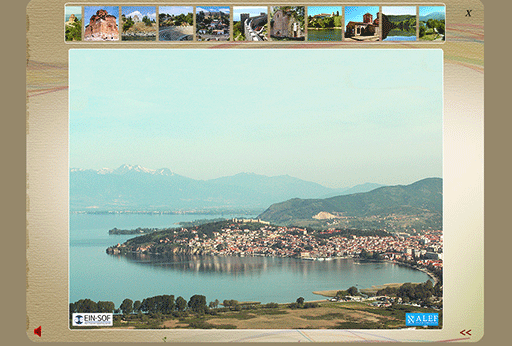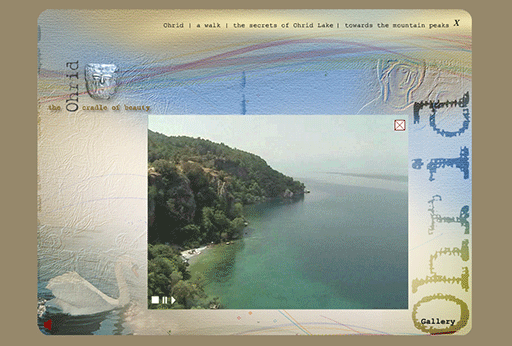 SPECIAL THANKS
• UNESCO
• Municipality of Ohrid
• Macedonian Ortodox Church
• Institute and museum Ohrid