Challenge
To organize and to unify one huge cultural wealth made by a multitude of civilizations on Macedonian area and to finally start talking on behalf of millions of people for everything they obliged us.

Languages: English and Macedonian
Awards
This project has had a number of public promotions and it has caused apparent attention and praise everywhere (Barcelona, Seattle, Washington, Lisbon), so as to win the prestigious THE BEST DIGITAL MEDIA AWARD in Gifu-Japan, in 1998, at the 4th International Scientific Conference on Mutlimedia and Virtual Reality.

Conceptual Structure of Macedonian Antiquities
This CD Rom is been adapted for a simple and accessible search. The whole content has been structured in accordance with the chronological order or the archaeological epochs, and each archaeological epoch is divided into several thematic chapters. It is clear that the thematic chapters can vary from epoch to epoch; however, the chapters which include different aspects of spiritual and material culture, as well as the chapter which covers only the most prominent settlements of the given period, are common for all the epochs.
Besides the main menu, each epoch is equipped with a special menu for moving through it, which is available at any time and adapted to simple and easy-to-follow manipulation.
The periods included in this edition are in the framework of archaeology as a science. Namely, the CD ROM starts with the Paleolithic and closes with the coming of the Turks, when Macedonia was under the Turkish rule, i.e. with the time when Macedonian archaeology ends and the Macedonian history commences.
On every archaeological epoch presented on the CD ROM there is also an interactive map of the Republic of Macedonia.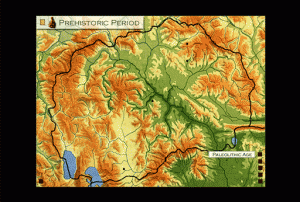 SPECIAL THANKS
• Ministry of Culture, Republic of Macedonia
• Center for Publishing Development – Budapest
• Open Society Institute Macedonia