Facebook can serve as a perfect place for the creation of brand advocates.
Brand: Frutti Jaffa Soft Cake
Industry: FMCG-biscuits
Fans before the start of the campaign: 36.648
Timeline: Three weeks
Primary target group:
Young people at the age of 16-30
People with rich cultural and social life
Challenge
How to capture the attention of the young crowds inhabiting Facebook and gather them in a place where they can share and win prizes?
Main idea
The main idea behind the contest was giving young people`s favorite pastime an official name. Since everyone has some favorite hobby, why not connect people with the same interest and create an online gathering spot where they can have fun and win great prizes.
Goals:
Create an emotional connection with the brand
Fans acquisition
Create brand advocates
Solution
The application that we have created reflects the character of every specific gang.
We`ve created 4 virtual Frutti gangs for the fans to choose from:
Frutti Love gang
Frutti Coffee gang
Frutti Shopping gang and
Frutti Sports gang
Anyone can create his own gang choosing from the four above and invite 6 of his friends (by tagging them) to join in. Once the game is creating the voting time is on. One can vote for his own gang, his friend`s gang or any random gang. The winner gang is the gang that gathers the most points. All members of that gang were given incentives.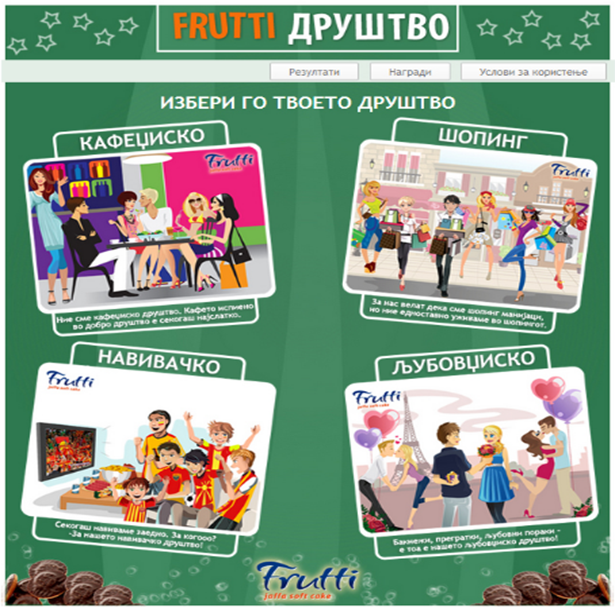 Resources used:
Facebook application – My Frutti gang
Facebook ad campaign
High-quality content and updates (posts)
"My Frutti gang" through numbers:
75.760.578 Facebook ad impressions
685.170 saw content for the contest
15.700 Facebook users talking about this
25.648 acquired fans
9.100 participants in the contest
1.300 gangs were created during the contest
No. 1 in Macedonia for daily and weekly fan page growth during the campaign(source socialnumbers.com)
Want to become our next success story?
Contact us today