Facebook is the ideal place for targeting and reaching to groups with specific interests and needs.
Brand: Lensmak
Industry: Health, Medical, Pharmaceutical
Fans before the start of the campaign: 0
Primary target group:
Younger Population 16-35 year-old
Interests: sports, fast lifestyle
People who want to change their eye color
Challenge
Lensmak is a wholesale company, main distributor of contact lenses from the Soflex line and Avizor – cleaning.
The main challenge with our first Facebook campaign for Lensmak was to target and acquire an initial wave of quality fans that will be the perfect audience for the services and products of our client.
Main idea
We decided that one of the best ways to attract new fans is by developing a game that goes directly at the core of the problem – eye vision. That is why we implemented a game to present the opportunities to fans to check if they are color blind.
Attracting and earning the attention of thousands of fans is crucial if we want to engage large audience in the forthcoming sales-oriented and more important campaigns for our client.
Goals:
Facebook fan acquisition
Brand Awareness
Solution
Two of the most important factors for the success of this application were the facts that:
People naturally care about themselves and
If there is some problem people want an answer fast
We presented a Lensmak`s fans with a convenient way to check their eye vision with a few clicks taking less than 5 minutes of their time. They were able to diagnose some symptoms or hints about their eye vision – particularly about possible color recognition problems and long-sightedness.
The steps required for the visitors to use the app are the following:
Like Gate – Visitor has to become a fan to access content
Game Page – Measuring the success and the time required for completion
Scores Page – Presenting results and appropriate next courses for actions for that result
Inviting Facebook friends and Publish buttons – as integral viral elements of the app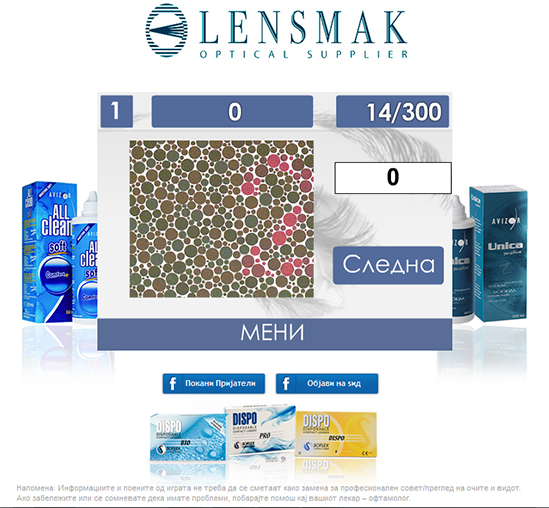 Resources used:
Facebook application – Game for color blindness test
Facebook ads campaign
Check your eye vision app through numbers: