This Facebook application represents a free branded e-card service. Every Facebook user has an option to choose a branded e-card and send it to a friend. The application has administration panel for adding, editing and deleting categories and e-cards. It also has Share to a wall and Send it to a friend feature.
Benefits
• Brand awareness
• Consumer Engagement
• Fans promote the brand
Solution
Screen 1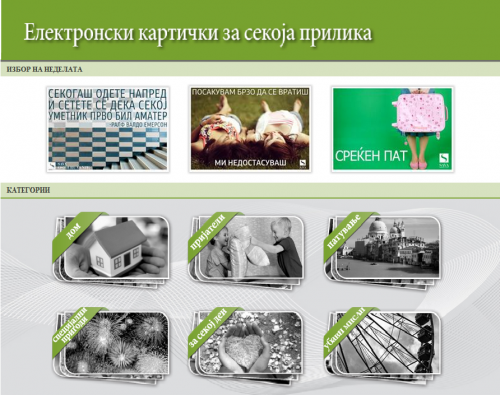 The Facebook user could see three featured e-cards and under them there are categories listed with thumbnail pictures. The e-cards could be classified in x categories ex.travel, special occasions, beautiful quotes, home, car, school, etc. Each of the e-cards has an option to be tagged with different tags.
Screen 2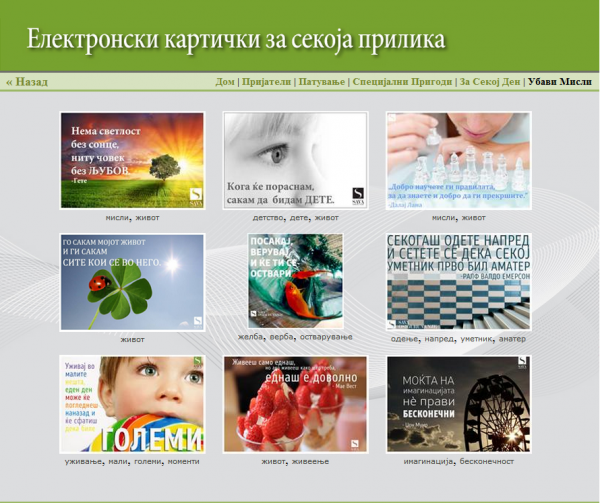 After the user chooses a category he sees the list of cards.
Screen 3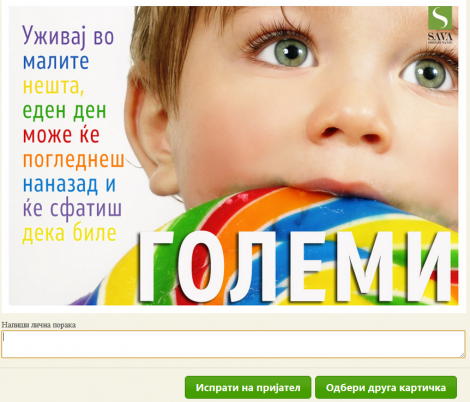 The user selects one of the branded e-cards. After he clicks on the chosen e-card it opens in bigger resolution. Under the card there is a button to send it to a friend and add a custom message or choose other e-card.
Screen 4
When the user sends the e-card, the applications asks him if he wants to share the information on the wall. If the approval is made the information about the e-card appears on friend's Facebook wall. The receiver gets the information as a Facebook notification, so in order to see it, he should approve the application.