Facebook marketing can stimulate an interest or desire about products and drive sales.
Brand: Elixir Exclusive
Industry: Retail, Health/Beauty products
Fans before the start of the campaign: 8130
Timeline: Two weeks
Primary target group:
Girls/women
17 – 40 years old.
In a relationship, engaged or married
High-end brands in interests
Challenge
Valentine's Day is one of our favorite holidays for the couples that are in love and definitely among the favorites for a perfume shop.
And why wouldn't when this is a time in the year when the sale skyrockets high above the average for this type of products?
Most people love the smell of an original and lasting scent on their skin and it is not uncommon for men or women to surprise their love ones with a new "hot" fragrance or maybe a new one.
Having in mind this, we joined the forces with Elixir Exclusive by working together to develop an idea on how to bring more visitors in all 4 stores of our client and increase the sale during Valentine's Day period as a result of Facebook marketing activities.
Main idea
Valentine's Day is a holiday that was massively adаpted in our country, especially the last 5 years. Girls want to make a long last impression to men and they want to express themselves among other things with a valuable gift.
We decided to focus on girls/women (17-40 years old ) who are in a relationship, engaged or married. 
Goals:
Drive visitors and sales in Elixir Exclusive
Increasing the number of Facebook fans for 5.000-6.000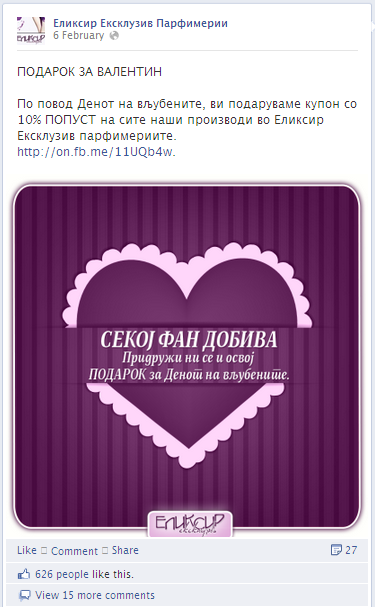 Solution
In order to earn our audience attention, we launched "Every fan wins"  campaign, special promotion with an EXCLUSIVE benefit only to Elixir Exclusive fans – discount for all the products in the perfume shops.
This was one of those campaigns with an inherited double effect: stimulating a desire to buy while at the same time increasing the number of new fans on the Facebook page.
The second aspect that we need to deal with is to have well-planned ad campaign, achieving high-quality execution in terms of:  great combination of imagery, copywriting, ad format, pricing and targeting the best possible group for the messages.
Last, but not least important, our Facebook application has to have an eye-catching and excellent design, a factor that can break or make one Facebook campaign.
(Take a look at the photos on the next page). 
Resources used:
Facebook application – Friend Gate
High-quality content and updates (posts)
Facebook ads campaign
"Every fan wins" through numbers: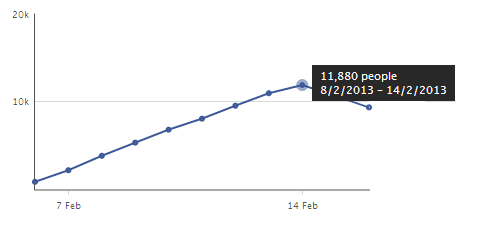 364,310

 people saw a content about Elixir from 329.220 targeted with Facebook Ads. Overall campaign reach bigger than the targeted audience with Facebook ads,

11,880

people Talking about this,

10,770

acquired fans,

1,650

redeemed coupons,
150 questions asked,

24%

fan base growth,
Constantly present in the top 5 brands in Macedonia for daily and weekly fan page growth during the campaign (source: socialnumbers.com)
Want to become our next success story?
Contact us today